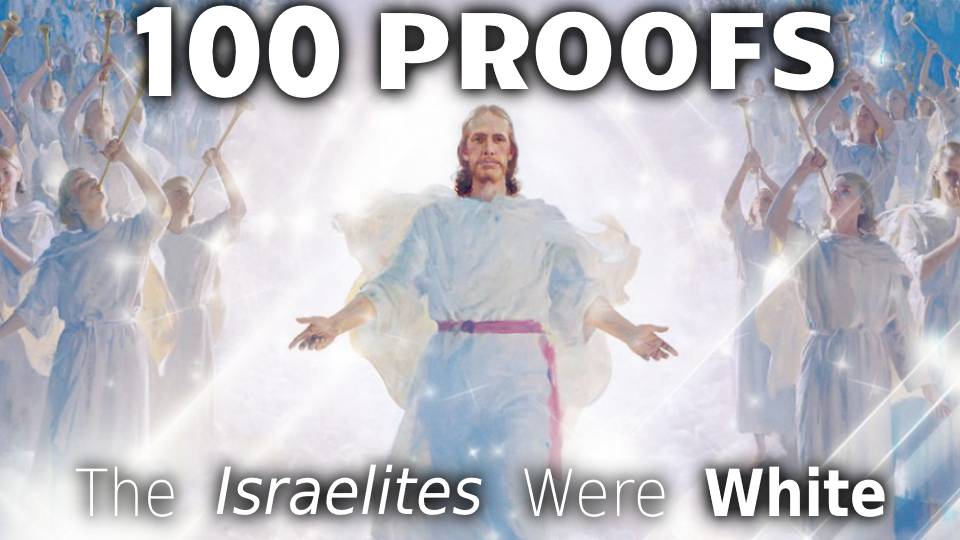 Only one race throughout history has called themselves Christians. "The nations shall see your righteousness, and all the kings your glory, and you shall be called by a new name that the mouth of the LORD will give" (Isaiah 62:2).
The name Christianity is synonymous with Europe, and Europe has been synonymous with Christendom. Until recently, Christian has been our identity and our name. Throughout history, only one race — the white race — has called itself Christian. Even our European lands were known as Christendom until the last few hundred years. The name "Christian" did not happen by accident. It's a fulfillment of Scriptural prophecy. Did you know the Bible predicts that Yahweh would give the name "Christian" to His people? He promised this "new name" (more on what this name is in a minute) to the genetic descendants of Israel and no one else. He did not promise this new name to all the peoples of the world, nor to any non-white nation, nor to random people within various nations who might profess belief in Him. Only to Israel.
God's people have been known by many names — Hebrews, Israelites, Greeks, Romans, Saxons, and Celts, to name a few — but now, since the Messiah Yahshua Christ has come, His people are known collectively by one name: Christians. His people are one as He is one. His people belong to Him, so we are called by His name. The remnants of the tribe of Benjamin and Judah which were in Judea became Christian, as did the rest of all the twelves tribes scattered abroad all over Europe. Thus they all were called by one name, and returned to their rightful Creator, God, and Redeemer, Yahweh.
The tribes of Israel who once seemed lost to history have joined the first-century Israelites in Judah and become one family, called by the one name Christian, and returned to their rightful Creator, God, and Redeemer, Yahweh.
Children of Israel to be be called the 'Sons of the Living God'
Click image for larger version Name: JChildren.jpg Views: 17 Size: 58.7 KB ID: 115194
We regard Yahweh's promise of a new name for His people as sign and proof that those newly named people were and still are His redeemed ancient Israelites, the lost-but-found sheep of the house of Israel. This prophecy about their new name was given to the Prophet Hosea. Through Hosea, Yahweh spoke to the children of Israel about to be deported because of their sins, idolatry, and faithlessness. In effect, Yahweh was "divorcing" them through this tragedy of deportation. But He promised that one day He would redeem them (through Christ), they would be His people again, and they would be named after the Living God. They would be called Christians.
Yahweh instructed Hosea to "act out" this prophecy in a dramatic way, both through his choice of wife and the names of his children. As if to emphasize the importance of names, Yahweh revealed this prophecy of a new name through the names of Hosea's future children. First, Yahweh instructed Hosea to marry a prostitute. This demonstrated how Israel was behaving toward Yahweh, their husband and God. As the husband of a whore, Hosea was a type of Yahweh, the husband of Israel who played the whore through her idolatry and unfaithfulness.
"The beginning of the word of the Lord by Hosea. And the Lord said to Hosea, Go, take unto thee a wife of whoredoms and children of whoredoms: for the land hath committed great whoredom, departing from the Lord" Hosea 1:2 KJV.
Hosea fathered three children in quick succession, and Yahweh instructed the prophet to give them specific names. These names would reveal what was about to befall Israel. Hosea named his first child, a son, Jezreel, which means "Yahweh scatters" or "Yahweh will sow." This name indicated that Yahweh would scatter the children of Israel through deportations.
"So he went and took Gomer the daughter of Diblaim; which conceived, and bare him a son. And the Lord said unto him, Call his name Jezreel; for yet a little while, and I will avenge the blood of Jezreel upon the house of Jehu, and will cause to cease the kingdom of the house of Israel. And it shall come to pass at that day, that I will break the bow of Israel, in the valley of Jezreel" Hosea 1:3-5 KJV.
Hosea named his second child, a daughter, Loruhamah, which means "no mercy." This name indicated that Yahweh would no longer tolerate or have mercy upon the children of Israel for their continuous whoredoms.
"And she conceived again, and bare a daughter. And God said unto him, Call her name Loruhamah: for I will no more have mercy upon the house of Israel; but I will utterly take them away." Hosea 1:6 KJV.
Hosea named his last child, a son, Loammi, which means "not my people."The children of Israel would no longer be His people but would become the "Lost Tribes." History does indeed show that they lost their Israelite name and identity. As we explained in earlier Proofs, they became the Cimmerians, Sacae, Scythians, Galatea and the Germanic and other tribes. Once again, we find that the Europeans fulfilled the prophecies made to the Israelites, this time as regards the tragedy of being scattered far from their home, with no mercy, and no longer His people. They went into the darkness and terror of the deportations and suffered the awful punishment of no longer being Yahweh's people because of their idolatry.
"Now when she had weaned Loruhamah, she conceived, and bare a son. Then said God, Call his name Loammi: for ye are not my people, and I will not be your God.".Hosea 1:8-9 KJV
However, Yahweh's punishment was corrective in nature and not permanent. Even though scattered to foreign lands and their name forgotten, dispersed Israel would grow into an immense multitude in those European lands. Yahweh promised He would come after Israel, His bride, seek her out and save her. In His good time, He would gather in His dispersed people and call them by a new name, the sons of the Living God.
"Yet the number of the children of Israel shall be as the sands of the sea, which cannot be measured nor numbered; and it shall come to pass, that in the place where it was said unto them, Ye are not my people, there it shall be said unto them, Ye are the sons of the living God" Hosea 1:10 KJV.
That Living God was, of course, Christ. The apostles, particularly Paul, sought out dispersed Israel in the lands of Europe, where they had grown into a multitude past counting, particularly as the Germanic tribes. As the tribes of Europe accepted Christ, they were regathered under one Head, that Head being Christ God. They were given a new name — Christians — after the Living God, just as the prophecy had foretold.
"Then shall the children of Judah and the children of Israel be gathered together, and appoint themselves one head, and they shall come up out of the land: for great shall be the day of Jezreel" Hosea 1:11 KJV
The name Christian proves that the white race is Israel. But why does Hosea's prophecy use the term "Living God"? Let's take a closer look at that important detail.
Christ is the only true Living God
Click image for larger version Name: ?u=http%3A%2F%2Fislamforchristians.com%2Fwp-content%2Fuploads%2F2014%2F02%2FIncarnation-of-Jesus-in-three-religions-1.jpg&f=1&nofb=1.jpg Views: 18 Size: 96.1 KB ID: 115193
The Living God is, of course, Yahshua (Jesus) Christ. But how and why is He the Living God? Yahshua is Yahweh the Living God of Israel incarnated in the flesh as a living, breathing Adamic man. Yahshua came down from heaven and was born of the line of Judah for the salvation of His people, His family, the children of Israel. Only in the Bible do we find miraculous and amazing prophecies that God would become man out of love for His creation, Adamkind. These prophecies have been fulfilled. Israel had been sentenced to deportation because of her idolatry, which is the worship of false "gods." These are idols of wood and stone and the deceit of devils. Nothing else. They are dead, not living. Yahshua Christ, who is Yahweh incarnated, is the only living and true God. He came in the flesh and called His people back from dead idolatry to Himself, the Living God.
Why the name "Christian"? Yahshua called Himself the Messiah (Christ in Greek) of Israel (Matthew 16.16-18) and after His resurrection, His apostles began preaching Him as the Christ. Acts 11:26 tells us, "And in Antioch, the disciples were first called Christians." The timing and geography are significant. In the city of Antioch, the apostles moved beyond preaching in synagogues, as had been their habit. Now they boldly preached to and converted Hellenic Greeks. These Greeks were not "gentiles," as was thought at the time, but they were actually descendants of the dispersed tribes of Israel. As the Gospel spread throughout Europe, the European peoples embraced the name of Christian. Christian means "the people of Christ," since the Greek ending "ian" means "people." By adopting this name, the Europeans became a race named after the Living God, thus fulfilling the prophecy in Hosea.
Europeans must be the Israelites
Click image for larger version Name: ?u=https%3A%2F%2Fwww.groundzeroweb.com%2Fwp-content%2Fuploads%2F2017%2F04%2FPeople-with-Highest-IQ.jpg&f=1&nofb=1.jpg Views: 18 Size: 87.0 KB ID: 115192
Let's put this Proof in its simplest form: Yahweh made an explicit promise that He would rename the Israelites as Christians. In all of history, only the white European race has been called Christian and their lands Christendom. The only logical explanation is the Europeans must be the ancient Israelites who were once deported and dispersed. You don't need an IQ of 200 to work that out. Either the prophecy unfolded in history and Yahweh's people are now called by His name, Christians, or Yahweh's promises failed or were false. If we truly believe the Bible, then we're forced to recognize how Yahweh's word has been fulfilled.
The Europeans were His dispersed people. This is why the ancient Hebrews awaited the coming of Christ, but it was the Europeans who accepted Him en masse. The Europeans accepted Him precisely because they were the ancient Hebrews. What other race has even been identified primarily as Christians? The Africans? The Chinese? The Indians? None of them! Only white Europeans fulfilled this prophecy. Europe was even known as Christendom before the modern age when secularism got a firm foothold.
Furthermore, only Christian are His people, and only Christians are ancient Israel. The people known as Jews claim to be Israelites but they hate Christ, Christians, and Christianity. Why is that? Modern Judaism is not the Hebrew/Mosaic religion of the Old Testament. Christianity alone is the continuation of the religion of the Hebrews, and these Jews are usurpers when they claim to be Judah or Israel. The Talmud is the foundation of the modern Jewish religion, a religion which really only came into its own after Christ. So we can say that Christianity is older than Talmudic Judaism. The people known as Jews today are not the Israel of the Bible; therefore, of course, they reject Christ and the name He gave to His people, Christianity.
"The nations shall see your righteousness, and all the kings your glory, and you shall be called by a new name that the mouth of the LORD will give" (Isa 62:2).
Our name is our identity. Yahweh gave us both. When we Europeans embraced our Christian identity and our Christian name, we became the historical reality foretold in Scriptural prophecies. We were lost, but now we are found. In accepting our identity, we fulfill the truth of God. The implications of these prophecies are staggering, and most Christians today still have to awaken to that reality. We white Europeans are the so-called lost tribes of Israel, the true Israelites. Yahweh sought us as a shepherd seeks His scattered sheep. He gathered us into one people, the Christian people, and He gave us His name, the people of Christ or Christians.
In times past, when Europe was Christendom, we understood that we were all brethren united under Christ our Savior. It's time that we recognize that truth again. We white people who live in these portentous times, let us not be ashamed to be known as Christians, to live as Christians, and to claim our historical reality as Israelites, lest Christ be ashamed of us on Judgement Day.